Burstin with Heritage and entertainment Bath is an exceptional city to escape to. Our Bath locals love travelling in our Party buses around the city, why not travel in style before enjoying the popular nightlife? or party on the way to a relaxing weekend at the Thermae Bath Spa.
Whatever your plans, we've got you covered.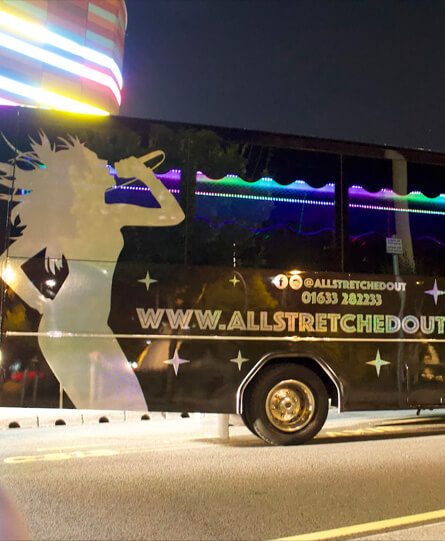 Baths popularity is not questioned, with its inclusion of fun activities for everybody, whether you're looking for a relaxing weekend away at the Thermae Bath Spa, a fun filled night out on the town drinking craft beers and ales in the local pubs and breweries, or looking to have a laugh down at the Komedia comedy club.
Perfect for Stag Do's & Hen Nights, Bath hosts its own West Country Games designed specifically for the pre-weds but accept all groups for nights out or work-do's, why not travel in style? Partying all the way before enjoying a fun-filled games night you'll never forget. 
Our Bath party buses will escort you to your chosen destination, providing Karaoke machines, smoke machines and all the bubbly you'll need to get the party started the right way. 
The UK's Largest Party Bus Company
If a party bus isn't your style, why not try our Stargazer Limo?
Our Limo comes equipped with FREE bubbly, Karaoke machines, Smoke machines and many more entertaining amenities to ensure your day or night is filled with fun!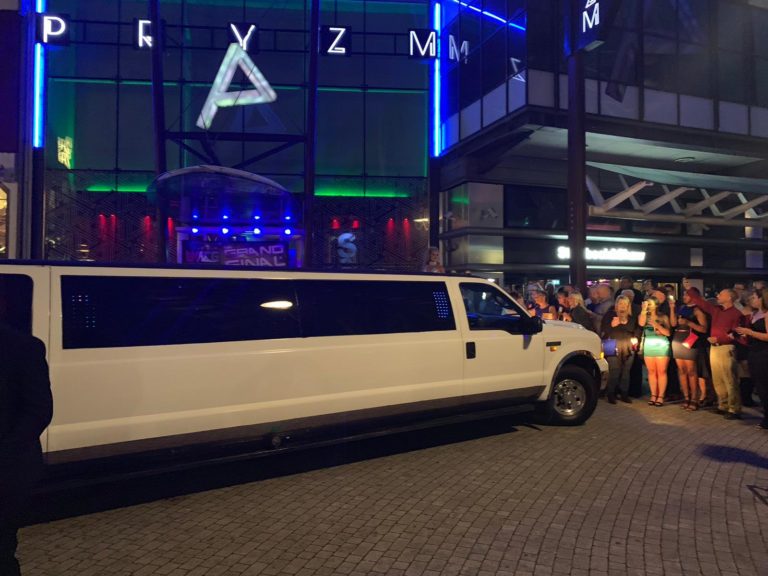 What is a party bus like?
A party bus is a conventional bus or coach in exterior but modified and redesigned with a limousine-like interior for recreational purposes such as parties, birthday celebrations and graduation. They are generally equipped with a high-quality sound system, laser lights, dance floors and poles, and luxury seating to create and provide entertainment and fun atmosphere. They are driven by professional and licensed chauffeurs and purposely-built for travelling places while having an amazing time.
If you're looking for the ultimate party bus with luxury and stunning features, you're in the right place. Our fleet of limos and party bus feature the latest technology and state-of-the-art interior.
We have fabulous 16-seaters and budget-friendly 8-seaters, perfect for small group gatherings. We are also proud to be the only company in Wales that provides party bus with 24 seats and our latest addition to our fleet is a party coach with 32 seats. They vary in size and design, but they all have unique and splendid features. So, no matter what type of party you are planning, there's always a vehicle that will fit your requirements and needs and take you safely to your destination.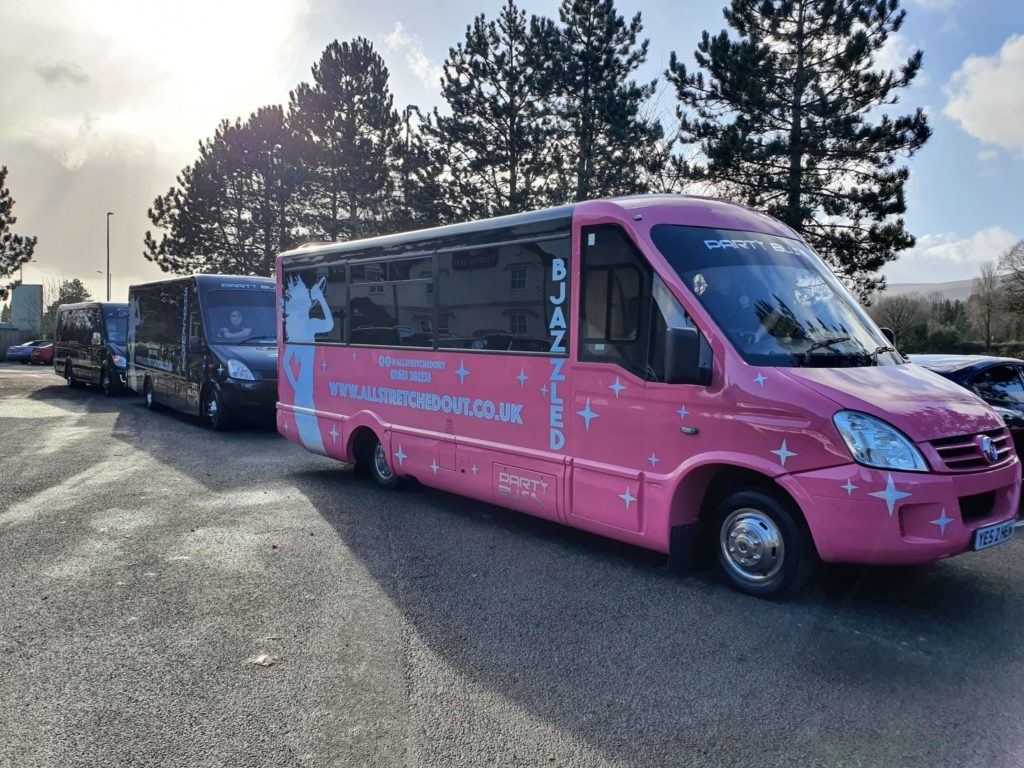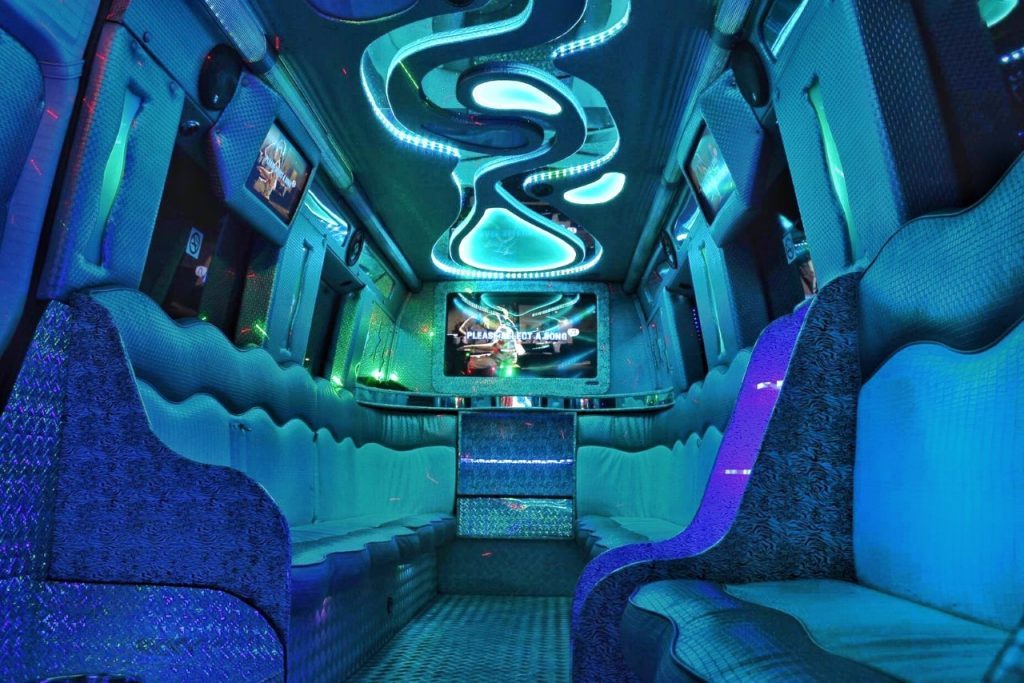 Lot's of Reasons for a party Bus Party
Arrive with style and glamour. Rest assured you're in good hands with our professional chauffeurs.
Enjoy and create memorable moments while opening a new chapter in your life.
Celebrate new beginnings in an unconventional but sure-fun way with your friends and family.
Take your guest to the wedding site and reception with an awesome, but at the same time, safe transport.
Make your day extra special with your loved ones and blow a wish excitingly and epic-ally.
Whether it's for team-building or outing, we've got a great platform for you to socialise and have fun.
All Stretched Out - Party Bus Experts
Party buses are a trend for a reason. It unleashes your party spirit while travelling. So, even if you haven't arrived at the venue yet, you can have your taste of party and double the fun wherever you are.
Economical for Shared Travel
If you are attending big occasions and corporate events with your colleagues, you can save more by travelling together with our bus than taking different cars to the venue.
This fun-filled mode of transportation provides not just the convenience of dropping you off wherever you go but also the amenities that come with it. You can also bring your party supplies like snacks and drinks and decorate the bus according to your theme.
Lots Of Buses To Choose From
Interested in one of our vehicles?
Plan your party ahead and book your party bus in Bath through our simplified process. Here at All Stretched Out, we provide the best packages to give you a smooth and memorable experience in your special occasions. So, click the QUOTE button now and let us tailor out our service to your needs and requests.
Party Bus Bath Prices & Limo Hire Bath Prices
For your Party bus hire Bath, make sure to plan in advanced and get your free quote today.
Party Bus Hire Prices range from £195
Limo Hire Cost ranges from £180