We provide the best fleet of party buses in Cardiff for an ultimate, one-of-a-kind party experience. Designed with passion and cutting-edge technology, our party buses are the best for parties that travel, bringing you multi-dimensional live entertainment experience you'll never forget.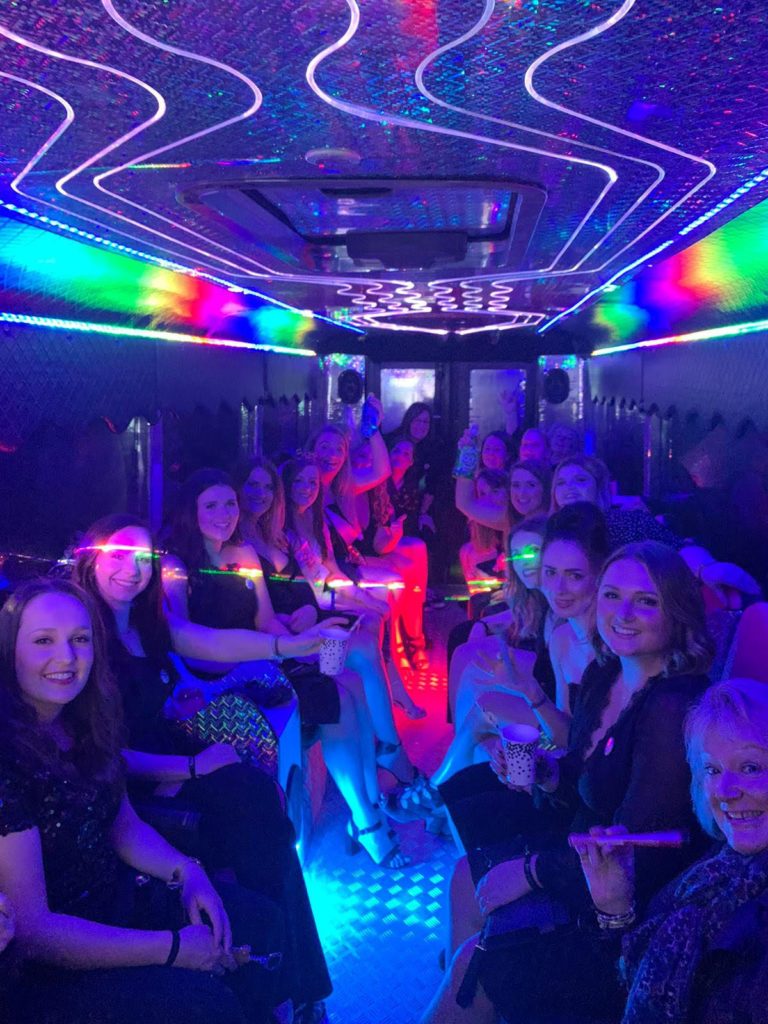 Cardiff is a city rich with picturesque landscapes including parks and mountains with historic castles and many other sceneries that will bless your eyes. So, strolling and travelling would be rewarding. And add up the entertainment provided by the party bus, you'll surely have the best days and nights of your life.
Whether you're up for a night party in the finest bars like The Dead Canary and Dirty Martini or just long-night travel along Cardiff Bay, we are happy to deliver you the best possible service at any time and location in Cardiff. There are a bunch of reasons to be happy celebrate in Cardiff, and we're here to provide you with an amazing and memorable experience.
The UK's Largest Party Bus Company
If a party bus isn't your style, why not try our Stargazer Limo?
Our Limo comes equipped with FREE bubbly, Karaoke machines, Smoke machines and many more entertaining amenities to ensure your day or night is filled with fun!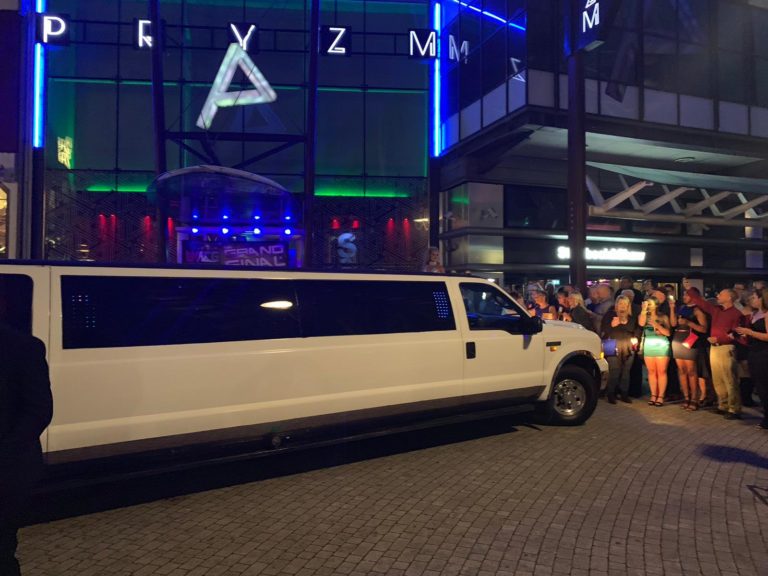 Because they're not just ordinary buses. Its bus or coach exterior and stunning limousine-like interior set it apart from conventional vehicles. The dynamic laser lights, high-quality TVs and sound systems and dance floors and free bubbly are perfect for recreational activities and special events. It's a chauffeur-driven bus designed for "parties on wheels". Wherever you are in Cardiff, you can enjoy its stunning features at a cost that can fit within your budget.
Here at All Stretched Out, we aim to deliver the best quality service for you to have a whale of a time. So, we always ensure that everything at the party will be designed according to your wishes. Whether you're planning to throw a birthday party or wedding celebration with a specific theme in mind, we can tailor out the decorations and amenities to suit your style. We also have a range of classy choices from 32-seaters to 16-seaters so you can invite many of your friends, family and colleagues without having to compromise luxury and quality entertainment.
So book your reservation now and let All Stretched Out party buses bring you throughout Cardiff.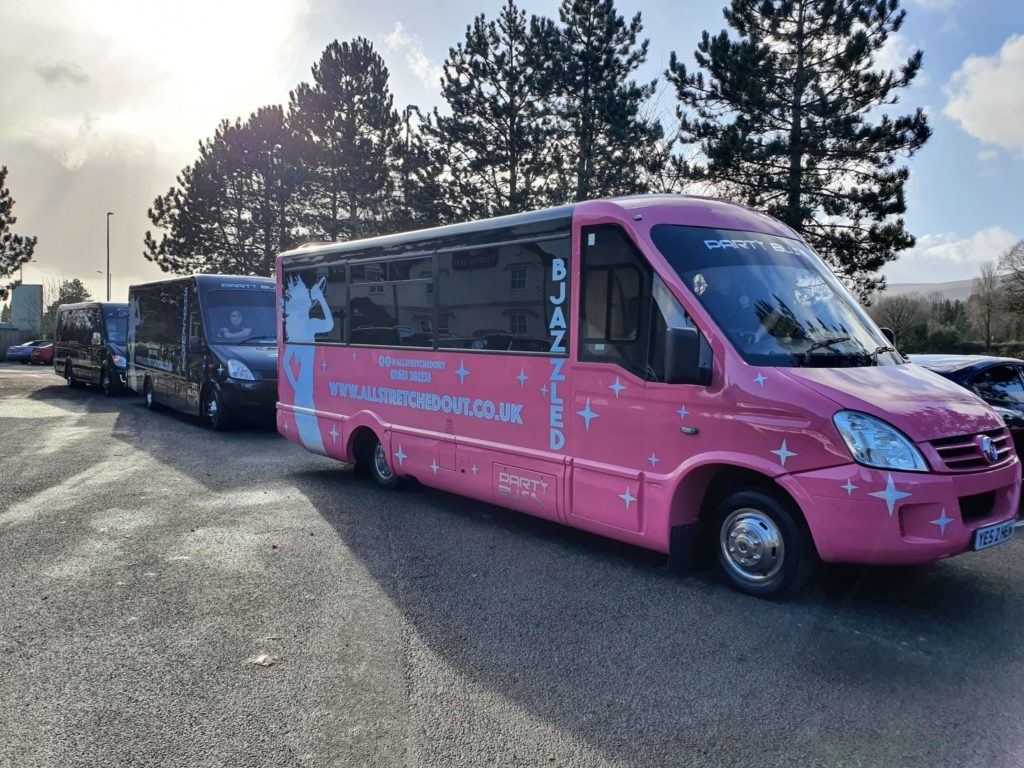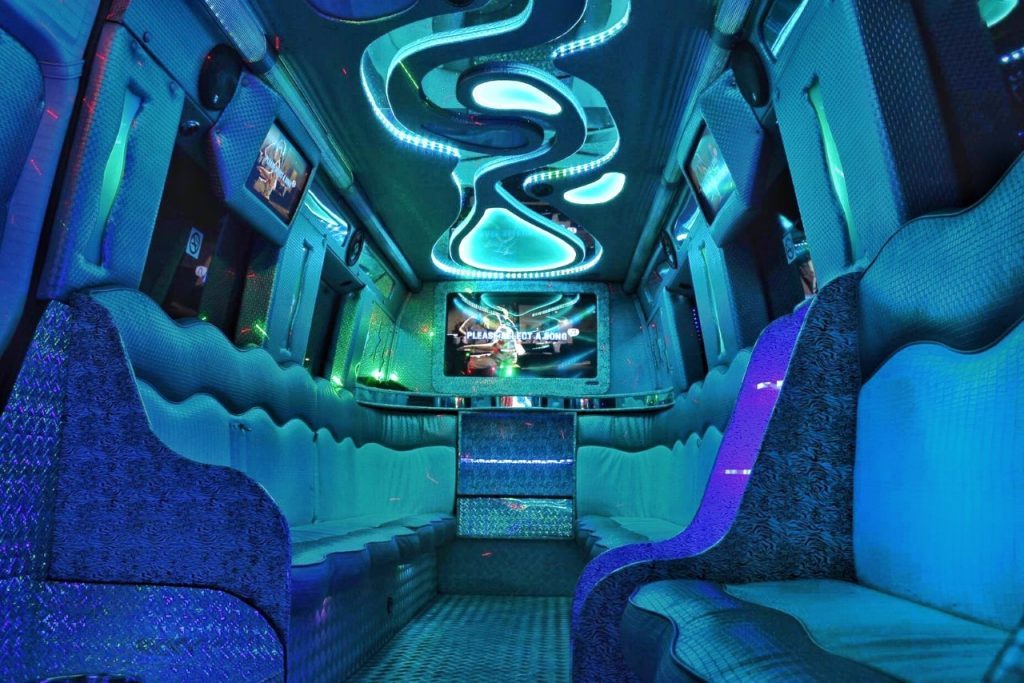 Party Buses for Events With Style
Book your kids a luxurious party bus for prom. They will surely love to spend the night in a fab way with their friends and classmates.
With great features like bright lights, champagne bar and a dance floor, our party bus is the best place to dance the night away.
Celebrate new beginnings in an unconventional but sure-fun way with your friends and family.
Our luxurious party bus models are as sleek as limos and perfect for transportation from the church to your wedding receptions.
Enjoy your b-day with the most exceptional mobile entertainment and non-stop surround sound offered by party buses to make your day.
Whether it's for team-building or outing, we've got a great platform for you to socialise and have fun.
All Stretched Out - Party Bus Experts
Grab your pals and colleagues on a unique party experience on wheels. No matter where your destination is and how you want your party to turn out to be, you can always fabulously have fun without any fear for your safety.
Our chauffeur-driven party buses can pick you up at your CF postcode front door and bring you right away to your destination. We ensure that our drivers are licensed professionals, and you can be safe when you hop aboard.
Our party buses around Cardiff city provide ample entertainment and lots of amenities on board. The television, deluxe sound system, flashy LED light and classy seating brings together fun and luxury at an affordable cost.
Lots Of Buses To Choose From
Plan your party ahead and book your party bus through our simplified process. Here at All Stretched Out, we provide the best packages to give you a smooth and memorable experience in your special occasions. So, click the QUOTE button now and let us tailor out our service to your needs and requests.
Frequently asked questions
Most frequent questions and answers about our Cardiff Journeys
Can I go to multiple locations in Cardiff?
Yes. When you hire a Party Bus with us you'll be hiring the Bus for the entire night.
Our Chauffeurs will be happy to transport you across the Capital of Wales to any locations of your choice.
You'll need to tell the driver where you'd like to go before the start of your journey so we can plan the best route of transport for you.
How many friends can travel with me to Cardiff?
Depending on what vehicle you're interested in we offer from 8 seaters to 32. 
Our Party Buses are equipped to deal with larger parties, Our limos can also fit up to 16 of your friends & family. 
Please be aware that during the current Coronavirus-19 Pandemic that travelling with large numbers may not be permitted, and therefore passengers may be required to only travel with those in their social-bubble or household. 
Where's best to visit in Cardiff?
It all depends on what entertainment you're looking for. Our Chauffeurs are professionally trained and are more than happy to show you and your party the highlights the City has to offer, from Nightlife on St.Mary's Street to the Cardiff Castle, St. David's Shopping Centre and the fantastic Bay waterfront.
Depending on the size of bus you've chosen to travel in you'll be greeted with many different fun and entertaining amenities. 
Including;
Karaoke Machine
Smoke Machine
FREE Bubbly 
LED Light show 
Spacious dance area & dance pole.
If you're not from Cardiff but you're looking for a nightout around the City our Chauffeurs will gladly pick you up from your chosen destination, tour you around the City or Bay and once you are ready will collect you and return you to a destination of your choice. 
For longer travel destinations our Buses & Limos can be rented over-night 
Do We need to bring anything?
You're not required to bring anything other than yourself & guests. 
You're more than welcome to wear fancy dress outfits accompanied by props if you're on a hen or stag do. 
If you're enquiring about whether you would be able to bring alcohol please call in advanced. Alcohol is provided with all our buses unless underage or told otherwise. 
Party Bus Price & Cardiff Limo Prices
Whether you're looking for chauffeur service Cardiff  or Party Buses price information. Get in contact with our team or get your free online quotation today.
Party Bus Hire Prices range from £195
Limo Hire Cost ranges from £180