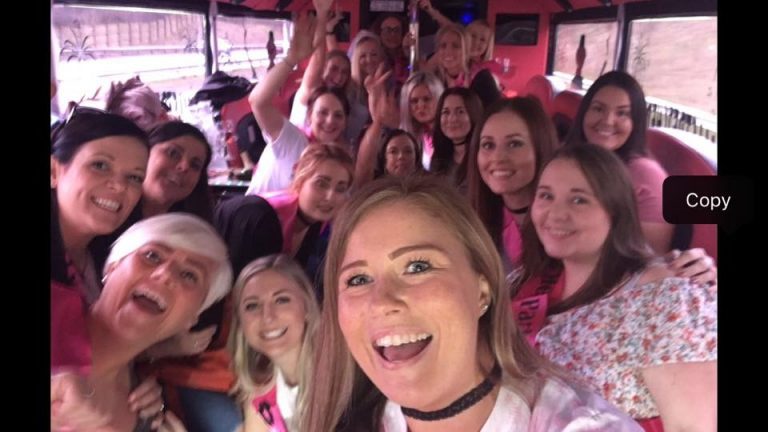 Planning yours (or your friends) hen party can always be exciting! there's so many
options on what to do and where to go, you want to make sure it's the most
memorable experience yet! having the best send off from single to married life
possible, here's a helpful guide to planning your hen party, whether it's a small intimate gathering, or a big night out with all your gal-pals, take a look at our ideas.

Getting Ready for the Night
The last thing you want to do whilst planning an epic girls night out is leave
everything till the last minute! Time to put your overly-organised friend in charge!
Getting ready for the night requires making bookings to the restaurants, pubs & bars
you want in advance, especially if you have a large group of friends you'll want to
make sure the places you go cater for bigger parties. We suggest calling and
booking 1-2 weeks in advance for larger groups, but if you're a small intimate
gathering you may be able to get away with a few nights before.

Another thing you'll need to consider is outfits! If you've decided on a theme for your
hen-do it's important to get everything ready beforehand- nobody wants a crying
bridesmaid who's lost her cowboy hat! Or a mix-match of different themed outfits,
plan ahead and make sure everything is safe and ready for the night, if you're
travelling abroad make sure to pack this outfit first as it's unlikely you may be able to
pick another similar outfit up in time.

Think about transport! Once you've got venues & outfits covered, the next big
question is how're you going to get there, there are many different options on transport on the hen do – if you've flown abroad, or travelled to a different city you
may have booked a hotel in the city centre, essentially eliminating the need for
transport, get your travel cups out and walk to the nearest bar and get the party
started!
However, if you're planning on travelling to the party the most memorable way of
doing this is booking a private party bus or limousine. You'll need to book this in
advance if it's something you're interested in, party buses can generally cater for
small or larger groups & often comes with karaoke machines, smoke machines, LED
lighting and bubbly & booze for your journey, much funner than taking a taxi and is
usually cost effective in larger groups as the price is split!
Daytime Activities
It's the perfect time to take advantage of the day, if you've got good weather why not
enjoy a BBQ, or take a dip in the pool before your activities commence, Hen do
activities can include anything from water-rafting for the adventure seekers, to
pamper spa days with facials & pedicures for our relaxing types.
If you're a thrill seeker or horror lover some of the most popular activities include
escape rooms or horror mazes.

Another memorable activity you and your friends could embark on is booking a trip to
a theme park, trampoline park, or skiing trip. Booking your daytime activities solely
rely on your location, imagination and timing, if you have a big night out planned
ahead you may want to save some energy for your night of partying and have a spa
day at a resort rather than work up a sweat in a trampoline park!

Evening Entertainment
These events can take a while to plan and it may seem hard to find the right hen
party company, but it is very important to choose one that is dedicated to ensuring
you enjoy the entire night, without it becoming just another expensive night out with
your gal pals! Always book ahead for your transportation and you can be sure that it will be worth it! We also recommend hiring private rooms at the venues, typically
clubs and pubs may not let a larger group of hen's in without a booking in advance,
although if you're traveling abroad for your hen do this may not be a requirement as
most hen-do tourist destinations expect larger groups of guests.
What better way to kick off the night than with a few cocktails and some great music?
Say hi to the crew around at a beer garden and karaoke, or enjoy a show from a
drag queen or a musician if you don't mind that stereotype on your hen party, it'll
surely make a most memorable and fun night, especially when the whole gang's
together!

Conclusion
No matter what you decide for your hen, it'll be a memorable night, even if that
memorable night means sticking local with your best girl pals, or travelling to a new
city, abroad with a big group of friends. Having a hen do isn't so much about where you go or what you do, but about the people you bring with you, make sure only positive and happy vibes surround you and you'll have a great time no matter what.Remember to take loads of photos as it'll likely be a night you reflect back to many a
time!
For cute vintage ideas on photo taking, hand out a disposable camera to each of
your friends before the start of the night – enjoy the surprise photos weeks later!