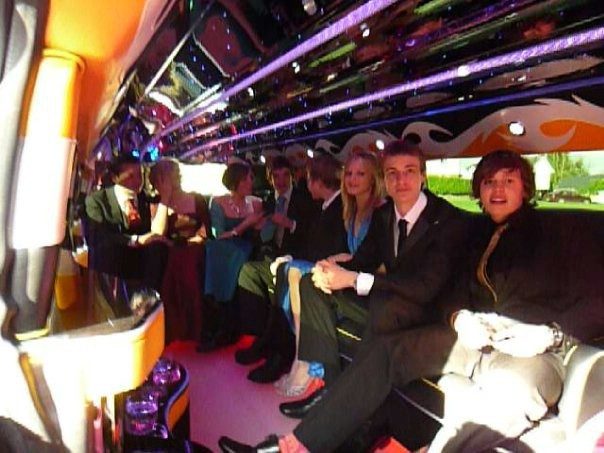 Are you looking for the best car for your prom? With COVID-19 restrictions easing there's a lot of events we're hopeful to be able to see & do this year. Prom being one of them, this article will help you make your decision for the ride of your dreams to prom, whether you're travelling with a group of friends, or your date All Stretched Out offers a range of prom cars, party buses and even limousines that are available throughout the south west.
But before we unveil our collection, we're spilling the tea first on how to find the right prom car for you.
How to Choose the Right Prom Car for You
There's loads of options there, when you're trying to plan your prom transportation, realistically you want the ride to be 3 things, fun,easy and memorable.
Planning Prom doesn't have to be a stressful task, and booking the car should be easy. With All Stretched Out you're able to view our cars on our website and fill out an enquiry form stating the time & place you'll want to hire it for, or you're welcome to visit our showroom and have a feel for the car yourself.
Examine the different types and car style in their fleet
The bigger the car hire company is, the more options you can choose from, ranging from luxury cars to limos to party buses. So, it would help if you considered which style suits your taste and needs.
If you want elegant transport, luxury vehicles are the way to go, but if your prom is classic or vintage-themed, vintage cars are more suitable for you. Still, if you want to travel with your friends and classmates, then a limousine or even Party Bus that can accommodate more people might be the best option for you.
Consider the cost
The price is one of the most significant factors that can influence your decision, so it is imperative to know your chosen prom car's cost. If you're on a tight budget, travelling with your friends may be a cost-effective option for you, but if you want exclusive transport for your and a loved one, then you might be looking at a slightly more expensive ride.
However, it is worth noting that your bill can be 30% higher than the quote since some companies add some layer of fees to the base rate, including administration cost, fuel surcharges, tolls, and gratuity for the chauffeur. So, before choosing the car and company, see to it that the final price is all-inclusive.
At All Stretched Out our prices start from as little as £180 and increase depending on size, distance & time of hire.
Check references and reviews
If you want to check a car hire company's reputation, it will help check web review sites that tell what former customers tell about their service and the vehicles they offer.
Check for safety
We know that Prom is all about having fun and making memories, but safety is the number one priority, and we think your parents will definitely agree.
Your safety should never be compromised, so be sure to check if the vehicle itself and the prom car company has valid certification and liability insurance, and the chauffeurs are professionally trained before going on board.
Review your options in person
It would be best to check the cars in person to confirm that what you see in photos is what you get, and you won't get disappointed with the vehicle that will pick you up. So review the fleet in person if possible before choosing the prom car of your dreams.
Prom Car Hire UK
We at All Stretched Out provides a large fleet of luxurious prom cars, limos and party buses that can bring you and your prom date or your classmates to your destination anywhere in Cardiff, Newport and South Wales and offer a fun and comfortable ride for everyone.
Our collection of high-end vehicles include the following:
Party Bus for Prom

32-seater coach – The Big One
If your class wants to travel to your prom venue together, this large coach has luxurious seating and design, nostalgic party lights, large televisions, and a huge sound system for entertainment. The contrast of black and white exterior finish looks luxurious and elegant, and its interior is filled with LED lights that create a club-like atmosphere and sets the right mood for a party. As you head into your prom, you'll also enjoy eight free bottles of bubbly and the high-end party vibe at a reasonable cost.
24-seater party buses
There are two 24-seater party buses you can choose from in All Stretched Out. The first option is the Shockwave party bus equipped with all entertainment features from LED lighting to the champagne bar and present an ecstatic laser show. This bus may look simple and ordinary outside, and the interior will never disappoint you. The other 24-seater party bus is the Smokin which also has free bubbly that will be best enjoyed with friends.
16-seater party buses
If you want a smaller party bus version that would fit you and your small circle classmates and friends, then these 16-seater vehicles that offer stylish interior and entertainment features are the one for you.
We have three 16-seater options for you:
Posh limo bus: This combines the elegance of a limousine and a party bus features, thus providing a comfortable ride and fun journey as you head to your prom. Its glimmering black exterior finish creates a contrast with its white interior design and provides a picturesque background for your photos.
Bjazzled party bus: This vehicle is all pink from its exterior finish to its interiors and comfy seats. It's popular among women and commonly used in hen parties. It contains a karaoke machine, champagne bar, complimentary bubbly, and other entertainment features to fill the ride with fun and excitement.
The Ace: This budget-friendly party bus is the new addition to our fleet that contains quality entertainment features such as LED pillars, 42-inch TV and laser light show at a lower price.
Limo for Prom

16-seater Limousine
Our Stargazer 16-seater limo is as bright as the celestial bodies. Its white exterior finish may look minimalistic, but once you step into this SUV, you'll be able to see how majestic its interior is. It comes with 5 TVs and a VIP area with a rear partition, so this vehicle will not disappoint you in your prom journey.
Limousines to prom is a classic choice, and one that you won't regret. You and up to 16 friends can arrive in style to your prom, you can choose to tour the city beforehand and prepare for a night of excitement. Not to mention splitting the cost of a party limousine between 16 people has advantages and you'll likely find it a much cheaper alternative to a larger bus.
But don't forget, Limousines don't have to solely be for partying, you can hire a limousine to escort your date on a magical evening, we'll also happily decorate the vehicle according to your wishes, this can be balloons, ribbons, confetti & more.
For more information on the decorations & added extras that come with our limousines for prom hire, please feel free to get in touch.